Pond Pro Water Testing Services
Need help identifying what is causing issues in your pond? Want custom product recommendations? Let us get to the root cause of your pond problems and find a solution tailored to your pond. With our new facility upgrades and lab partnerships we can now serve you better all across Canada!
If your pond has the following problems, you may need to consider water testing:
Sludge
Odours
Eutrophic pond
Why should you consider water testing?
Water testing allows our biologists to determine what is causing issues in your pond and which products would work best. Each water body is unique and may react to certain treatments differently than others. Our testing program allows us to provide more confident product recommendations and provide the best solution for your pond.
Our water testing service includes:
In-house testing of your water samples
Personalized report
Free phone/email consultations
5-10% coupon on Pond Pro water treatment products
Bottles, shipping cooler/box, and return label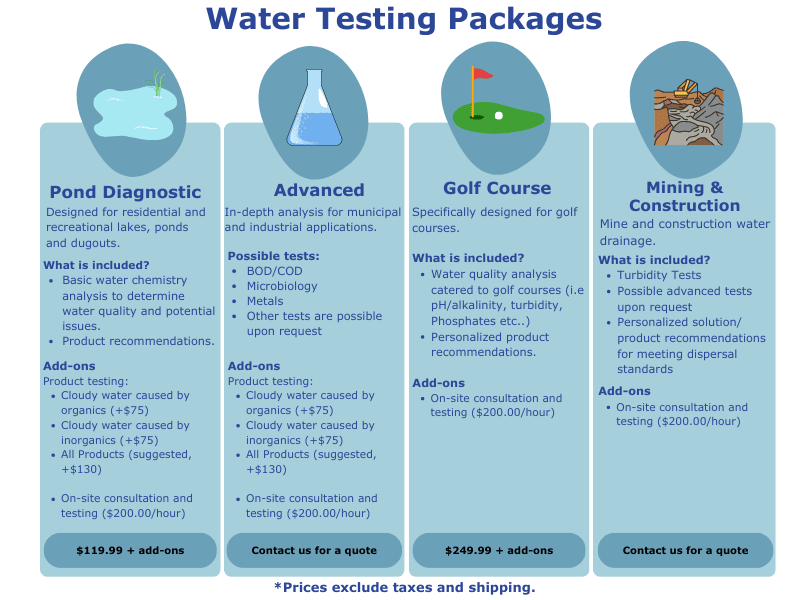 How does our water testing service work?
Once you complete the water testing request form and pay for your testing package, we will send you the collection bottles with the proper packaging and a return label. Once you receive your bottles, all you have to do is collect your water sample and send it back to us as soon as you can. We will then test your water and send the results within a week of receiving your samples.
We offer a variety of water testing packages, designed to help meet the needs of different applications and industries:
Don't know which package is for you? Do you require specific tests that aren't listed? Our packages are completely customizable and our biologists are more than happy to help find the best testing approach for you! Learn More about our water testing services here.

If you have any questions or require a customized package feel free to reach out at 1-855-414-7663 or at sales@pondpro.ca.
Recent Posts
Maintaining a beautiful and healthy pond or lake shoreline is essential for both aesthetic appeal an …

You may have seen duckweed; small floating aquatic plants on the surface of your water. Is it more t …

Pond Pro Water Testing ServicesNeed help identifying what is causing issues in your pond? Want custo …